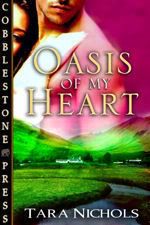 Oasis of My Heart




by Tara S Nichols




Release Date May 25th 2007




Sadie Davies is running away for the second time in her life. The first time she wanted stardom. This time she is running from it. Intending to keep a low profile she sets up for a solitary life, but with sexy, know-it-all, neighbour Dustin Reed she finds it rather difficult. Moving in next door to playboy Dustin Reed wasn't Sadie Davies idea of keeping a low profile. With ex-manager Horace Bigelow hunting her down the last thing Sadie wants is a distraction.


Now she has to decide whether to let this lady-killer into her life for fear of attracting a real killer.